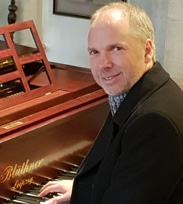 John Trent Wallace
Musical Director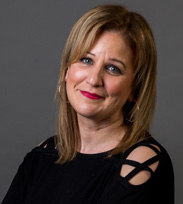 Clare Penfold
Accompanist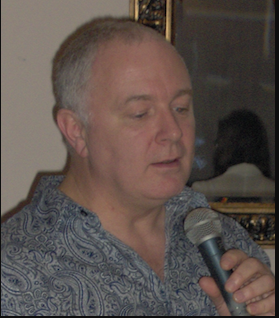 Jason Smart
Deputy Musical Director
As Musical Director for men2sing, John has been instrumental in providing the vision and direction for the choir's musical output and performance style. Drawing on songs from many different genres and styles, the choir attract singers and entertain audiences through its diverse repertoire. John has developed a reputation for creating dynamic choral arrangements of modern classic songs, which are regularly performed across the UK.
John delights in encouraging people to experience the fun of singing with others, whether they are experienced or new to choral singing.
Drawing on a career that saw him first perform on the professional stage as a soloist at The Royal Opera House, Covent Garden alongside singers such as Kiri Te Kanawa, he has subsequently been involved with many classical, rock and musical theatre projects, working in venues ranging from The Royal Albert Hall to The Theatre Royal, Waterford.
John is a published composer of musical theatre and, as a musical director and sound engineer, he has been involved with many shows, concerts and other performances, from Bugsy Malone, through Les Miserable to We Will Rock You. He was Resident Musical Director for Brentwood Theatre for eight years, during which time he composed and created orchestrations for their Christmas shows
He is also a live and recorded sound engineer working on projects that have included the Royal Philharmonic Orchestra and West End soloists.
John also a Business Growth and Sales specialist and helps his business owners and executives succeed by applying best practice in customer engagement, sales and negotiation
Full details about John can be found at:
Clare studied music at Royal Holloway University. After leaving, it was a number of years before she became involved with accompanying local choirs and amateur dramatic societies. This has led to her undertaking the role of musical director for a number of local groups including BASOPS, CAODS, Thurrock Thameside Musical Society (TTMS), Two Faced Productions, Arts Factory, Benfleet Operatic Society and BLED Productions. Her favourite shows as MD include Copacabana, West Side Story, Honk, A Slice of Saturday Night, Summer Holiday and Fame.
She enjoys a wide variety of music and as Musical Director or keyboardist is actively involved in creating productions as diverse as Little Shop of Horrors, The Wedding Singer, Frankenstein and The Full Monty.
Clare is an accomplished pianist, and in addition to being the accompanist for men2sing, she rehearses with and accompanies groups such as, New City Voices, CDOT, Thurrock Male Voice Choir and Pure Entertainment, where she plays for numerous concerts, shows and charity events.
Additionally, Clare also offers private piano tuition.
Jason Smart – Deputy Musical Director
Music and singing has been a part of Jason's life from an early age, singing in the church junior choir at the age of 4. 
There really hasn't been a time when he has not been engaged in singing and making music He sang with Redbridge Youth Choir (and still does occasionally with former members of the 1970/80's), churches and local amateur dramatic groups.
Jason ran his own small choir successfully for a number of years.  More recently, his focus has extended to working with other choirs, both singing and directing.
Jason says… "It is a particular joy to have been welcomed into men2sing and to be able to take on this role within team".