In the Beginning
It was in the small room behind the stage of South Woodham Village Hall that twelve would be male voice choir members first met one spring evening in 1979.
The twelve men: T.Fenn, L.French, T.Bason, C.Gold, P.Hatcher, D.Watts, P.Robson, B.Grice, A.Shaw, A.Giles, F.Barlow, P.Walden and A.Arnot the Musical Director.
Most had never sung in a choir before but, nevertheless, felt that it was something worth trying.  A handful of them had taken part in annual pantomime, others came from the Village Hall bar and two or three with some singing experience responded to an advert in the local magazine.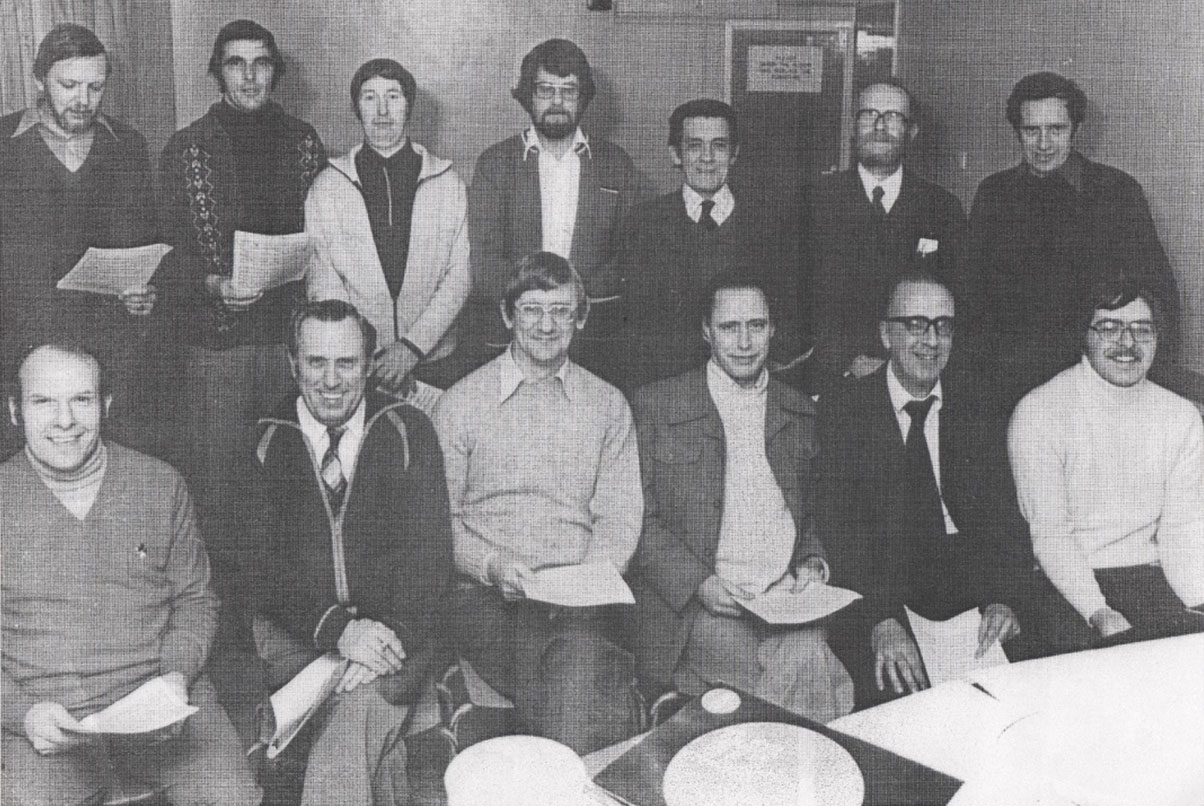 Despite having reservations concerning the venture a local teacher, Alan Arnot, who had a fine voice and could play the piano, agreed to be the conductor.  It was a brave thing to do as in his capacity as musical director of the local panto, mentioned earlier, he had come across some of the men before and, although being far too nice to say, had every reason wonder about what he was undertaking.  However, before the choir had sung a collective note there was no doubt in the minds of those there that it wouldn`t be long before they were a force to be reckoned with in the world of male choral singing.
Given that a number of the men were famous for their ability to drink and bellow out songs in the bar on a Friday night, it`s perhaps not surprising that one of their very first challenges was a piece called "My Comrades When I`m No more Drinking" the final wording  finishes with the tombstone inscription "This man was born , lived, drank and died. And now he lies here, who imbibed in all life`s joy and purple tide. Poor man. Poor man"   Another was "Gaudeamus  Igitur", an exhortation to enjoy life, along with The Wiffenpoof Song. Other than the fact that they are short and simple it`s not clear why Alan Arnot chose them but within a few weeks, and to everyone`s surprise, they were being sung reasonably well and the choir was on its way.
Paul Robson